Letter I Worksheets
Our free, printable letter I worksheets give a first-hand account of how playful exercises like tracing, writing, and coloring help fire kids' imagination and instill in them a love for learning the alphabet. Climb aboard and sail across this sea of letter i pdf resources and come back ashore with your letter I in good shape.
Our uppercase and lowercase letter I worksheets pdfs are ideal for pre-k and kindergarten.
CCSS: L.K.1.A
Immerse pre-k kids in this vibrant uppercase letter I worksheet and see the magic of colors! Explore how this worksheet lays a course for an epic journey where art and learning go hand in hand.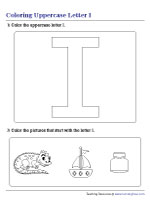 You're playing in the big leagues, so tune up! Gain the upper hand boasting the wide-ranging benefits of pre-writing achieved through this tracing uppercase letter I worksheet pdf.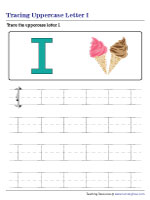 Overhaul your letter I from stem to stern with our printing uppercase letter I worksheet! Level up from tracing to writing by employing this kindergarten worksheet that embarks on an exciting alphabet-learning journey.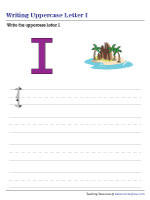 This coloring worksheet promises entertainment for the budding artists in pre-k and kindergarten as they let their imagination run riot on paper and master learning lowercase i along the way.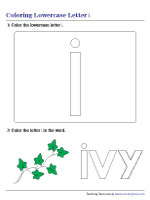 Come to this letter i party for pre-k kids and be there with bells on! Help kids imbibe the spirit of the lowercase in this tracing lowercase letter i worksheet and instruct them to trace the dotted letter i to upgrade their fine motor skills.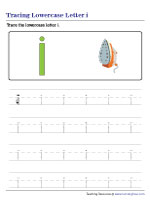 Develop superior penmanship with our printing letter i worksheet pdf. As little learners learn to write the lowercase i, this exercise sets them on the path to successful writing.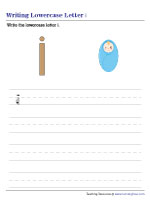 Letter I Words and Pictures Chart
Get up a head of steam with our printable letter i chart featuring pictures and words and have yet another letter hang its head in meek submission. Encourage kids to point to each word in the chart as they read it aloud.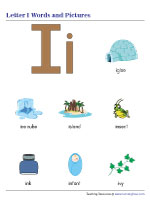 Uppercase and Lowercase I Mixed Practice
Time flies when you're at our pdf uppercase and lowercase letter i mixed practice sheet. Whether you're a teacher, a parent, or a homeschooling enthusiast, this resource is a must-have.