Letter J Worksheets
Welcome our free, printable letter J worksheets, where learning the letter J feels like a delightful journey! To write the uppercase and lowercase letter J flawlessly, kids must get there the firstest with the mostest; having access to our user-friendly worksheets and chart, which foster in young minds a love for letters and language, is highly recommended.
Our uppercase and lowercase letter J worksheets are ideal for kids in pre-k and kindergarten.
CCSS: L.K.1.A
Watch your pre-k kids' eyes light up as they immerse themselves in this printable coloring uppercase letter J worksheet, where they bring the letter to life with just a few bold strokes.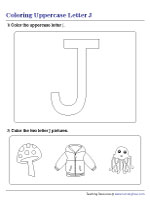 We bet the child will have a spring in their step after they discover this printable letter J trace and learn worksheet, whose letter-formation practice will stay with them for a lifetime!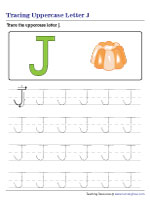 Drop in to say hello to the practice in our worksheets and form a lasting bond with the letter J. Direct kids to write the uppercase letter J, fostering cognitive and motor skills.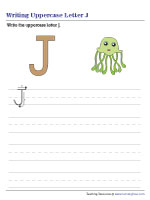 Nurture your little artists' talents with yet another coloring resource. This lowercase letter j coloring worksheet pdf inspires pre-k and kindergarten kids to express themselves through colors.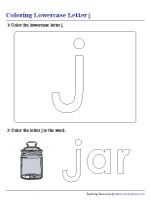 Take the little writer under your wing and show them around this tracing worksheet, after answering which they'll be on a roll tracing the lowercase j.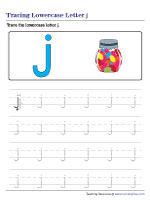 Reinforce letter recognition and exercise memory skills with our letter J worksheet pdf. Children in kindergarten will delight in writing the lowercase j for a promising learning experience.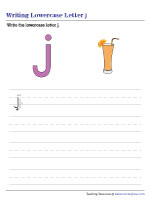 Letter J Words and Pictures Chart
Hurry up and print out our letter J chart! This captivating chart features words and vibrant pictures to promote letter-recognition skills while sparking curiosity in pre-k kids about the J words.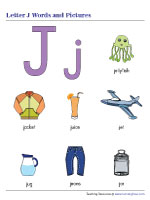 Uppercase and Lowercase J Mixed Practice
Elevate creativity to new heights with our uppercase and lowercase letter J mixed review worksheet. Keep little champs in pre-k and kindergarten fruitfully engaged while they master the alphabet in an entertaining way.