Letter K Worksheets
The letter K, as shown and told in our free, printable letter K worksheets, will steal your heart away. Awaiting little geniuses, are colorful illustrations and an array of alluring exercises where coloring, tracing, and printing take their turns to drive home the letter K learning. The review exercise is a must-do!
Our uppercase and lowercase letter k worksheets are ideal for pre-k and kindergarten kids.
CCSS: L.K.1.A
Exude creativity in abundance, imagination in spades, and learning galore in this coloring sheet. Guide pre-k kids to color the capital letter K and pictures of words that begin with the letter k.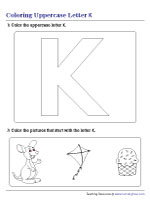 A stepping stone to thorough alphabet knowledge, our tracing letter K worksheet pdf is meticulously designed to aid pre-k highfliers in writing and recognizing uppercase K.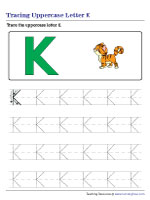 Enhanced letter recognition and stellar handwriting are two of the several goals our printing uppercase K pdf helps children achieve, giving this resource an undisputable place in their repertoire.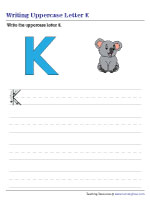 Coloring continues to tempt irresistibly in yet another fun and educational coloring worksheet, the center of attraction this time being the lowercase letter k.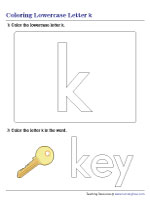 If you're hoping to read and write competently, you should give tracing lowercase letter k due importance, as this printable exercise strives to make you adept at this foundational skill.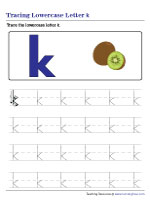 Give credence to your K success by breezing through k in this printing lowercase letter k worksheet. A gateway to neat and tidy penmanship, this pdf also helps you develop fine motor skills.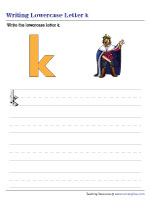 Letter K Words and Pictures Chart
Give your pre-k and kindergarten kids a head start in recognizing words that begin with the letter K with this chart that features words and pictures whose names begin with k.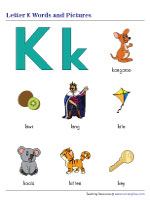 Uppercase and Lowercase K Mixed Practice
Calling all little ones as keen as mustard to try out our printable uppercase and lowercase letter K mixed review worksheet and master the letter K in a jiffy.