Letter L Worksheets
Our free, printable letter L worksheets help lay the foundation for reading and writing! Home to a selection of exercises like identifying, coloring, tracing, and printing, this pack helps budding language wizards get a pretty good fix on the letter L by getting their creative juices flowing as they complete a range of letter L activities.
Our uppercase and lowercase letter l worksheets are ideal for kids in pre-k and kindergarten.
CCSS: L.K.1.A
For some, it means a favorite pastime; for others, it is a simple activity that helps them thrive cognitively. No matter what, coloring is a sure hit among kids. This printable capital L-coloring sheet for pre-k explains why.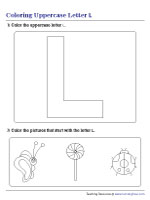 Watch kids take a shine to this tracing activity, which makes reading and writing L easy as cake. Encourage pre-k champs to trace the uppercase L repeatedly, as repetition is the key to retention.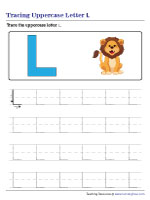 Once your kindergarten kids have learned to trace the uppercase letter L, writing the letter will be a natural progression. Make the most of this printable uppercase letter l worksheet to be a past master at writing capital L.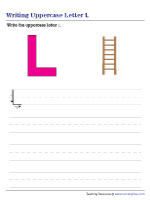 This coloring lowercase l worksheet will mean your pre-k children's letter L practice will witness a welcome shift from coming along by fits and starts to growing by leaps and bounds.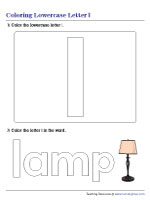 Refine pre-writing skills by employing this tracing lowercase l worksheet pdf! Direct kids to trace out the lowercase l and so their foundational writing and drawing skills will build up brick by brick.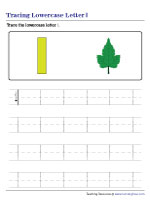 Mastering the alphabet is a critical foundational step for reading and writing! Start writing your own tickets in alphabet practice with this letter l printing worksheet, where kids whizz through small l.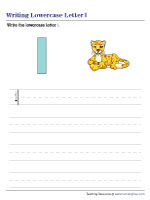 Letter L Words and Pictures Chart
Print and stick this letter L chart on the wall so children can easily refer to it and make their L-learning visually appealing. Guide them to read each word aloud and track their progress.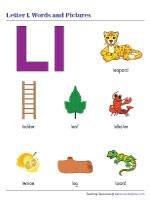 Uppercase and Lowercase L Mixed Practice
Reinforce letter recognition by getting your kindergartners working on this pdf uppercase and lowercase letter l revision worksheet. Soon they'll learn that associating the letter L with L words and objects makes L-learning twice as fast.