Letter M Worksheets
Expedite alphabet learning with our free, printable letter M worksheets. Filled to the brim with fun activities and exercises, this collection immerses little ones in a world of color as they get up-close with letter m. Be it tracing, writing, coloring, or a combination of all three, these worksheets house them all with plenty of room to spare.
Our uppercase and lowercase letter m worksheets are ideal for pre-K and kindergarten kids.
CCSS: L.K.1.A
A whirlwind of hues bright and brilliant, this exercise features an outline of an uppercase M and pictures of words that begin with m for pre-k and kindergarten kids to color.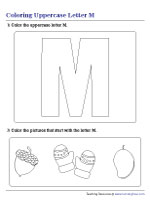 Dotted fonts light the way as toddlers follow them to a T making the shape of the capital M, repeating the process as many times as they like in this worksheet.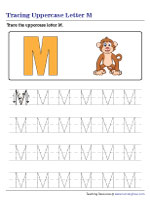 Powered up by tracing practice, kids can now move on to writing capital M, making sure not to stray from the lines presented in this printable uppercase letter M worksheet.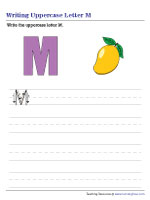 The coloring escapade rages on at full speed in this part of our pdf letter M worksheets, which rightfully and generously offers lowercase m its time to shine.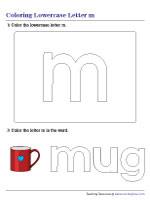 Get kindergarten kids to follow the directions on top, as they make use of the tracing fonts to master the shape of the small m, while enjoying repeated practice.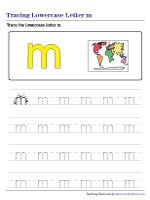 Repetitive tracing will have no doubt prepared children to take on the exciting challenge of this llowercase letter m worksheet pdf, where they practice writing lowercase m.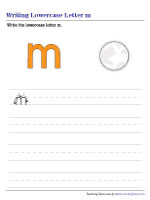 Letter M Words and Pictures Chart
Cutting right across the fun and excitement of the activities is a printable letter M chart for pre-k kids that contains not only a capital and small m but also pictures of m-words.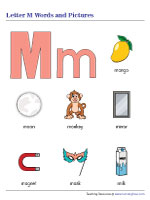 Uppercase M and Lowercase m Mixed Review
Round out your little champs' letter m session with this uppercase and lowercase letter m review worksheet like no other. Get kindergarten kids tracing, identifying, and coloring uppercase and lowercase m all in one fell swoop.