Letter N Worksheets
Reconfigure alphabet practice with our free, printable letter N worksheets, home to a host of activities sure to delight any child. Watch kids expend their endless energy and eagerness to learn on exercises involving tracing, writing, and coloring. Thorough and comprehensive, this set focuses just as much on capital N as it does on small n.
Our pdf uppercase and lowercase letter n worksheets are ideal for kids in pre-K and kindergarten.
CCSS: L.K.1.A
A smorgasbord of shades, this exercise on coloring capital N and pictures of words that begin with N kindles kids' ardor for more letter N activities and exercises.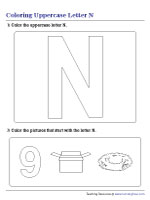 Dotted fonts of uppercase N gently hold your pre-k kids' little hands, providing them all the guidance they require to trace the capital letter N to perfection.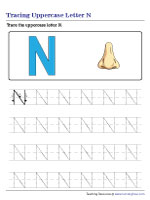 Two vertical straight lines with a slanting line connecting their opposite ends make an uppercase N. Remind pre-k and kindergarten kids of this simple fact as they print the capital N.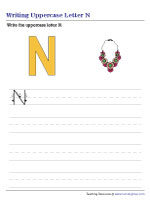 This printable lowercase letter n coloring worksheet, featuring an outline of lowercase n, is an absolute joy for pre-K children looking to embark on a multi-hued learning adventure.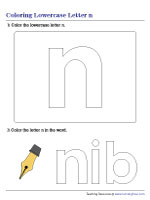 Tracing fonts make yet another appearance in this part of our pdf letter n worksheets that tasks kindergarten kids with tracing a small n as many times as they please.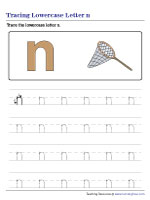 All the tracing kids did so far will bear fruit in this section of our letter N worksheets pdf, where kindergarten kids spare no effort writing the small n over and over again.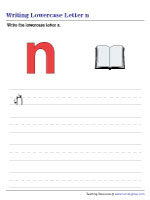 Letter N Words and Pictures Chart
An uppercase N and a lowercase n generously share space with a range of labeled pictures of words beginning with the letter n in this printable letter N chart for toddlers.
Uppercase N and Lowercase n Mixed Review
A little bit of tracing, a little bit of coloring, and a whole lot of fun figure heavily in the delectable spread offered by this uppercase and lowercase letter n review worksheet.