Letter O Worksheets
Our free, printable letter O worksheets are packed with tracing, coloring, and writing activities. Trace and print the letter o while being pampered by eye-catching images to accelerate success at recognizing and writing the uppercase and lowercase o. While identification of the letter o is their bread and butter, these pdfs also thrive on fine motor skills.
Our uppercase and lowercase letter o worksheets are ideal for pre-K and kindergarten children.
CCSS: L.K.1.A
Magic the letter O into a masterpiece by coloring it using a color of your choice; also color the pictures whose names start with the letter O.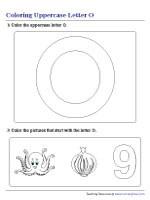 A joyride from the get-go, this printable letter O worksheet will get kids in pre-k tracing the uppercase letter O while bubbling over with enthusiasm for the letter O.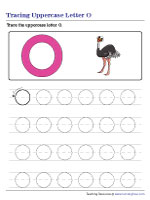 The letter O with directional arrows on the first line serves as a guide for the kindergarten kids, giving them insights into the correct formation of the uppercase letter o.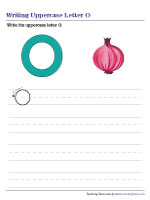 More fun than a barrel of monkeys, this activity tasks tiny tots in pre-k with coloring the lowercase letter o and shading the letter o in a word.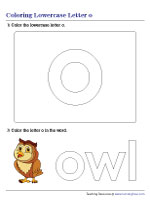 This letter o pdf, which boosts the pre-k kids' penmanship by letting them trace the lowercase letter o, will be quite a feather in their cap when completed to perfection.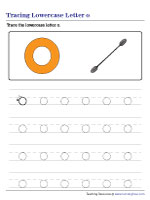 Follow the arrows and the starting point given for the letter o in this lowercase letter o worksheet and start learning to print the lowercase letter o.
This printable letter O chart with pictures of animals or things and their names is a great tool for kids to reinforce recognition of the letter O.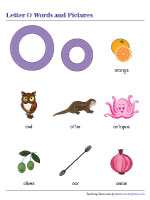 Uppercase O and Lowercase o | Mixed Review
With exercises like coloring, circling, tracing, and printing the letter o patiently lining up and waiting to be served, this uppercase and lowercase o revision worksheet has all the practice kids need to perfect their letter o.