Letter U Worksheets
Our free, printable letter u worksheets give wing to kids' practice as alphabet learners. With the wealth of tracing, printing, and coloring practice that dwells in this assortment, your little ones will have no dearth of options when it comes to activities with a two-pronged approach toward uppercase and lowercase letter u.
Our uppercase and lowercase letter u worksheets pdf are ideal for pre-K and kindergarten kids.
CCSS: L.K.1.A
Paint the town red or blue or any color you choose, for creativity is key in this coloring letter U worksheet pdf, where pre-k kids must color the capital U.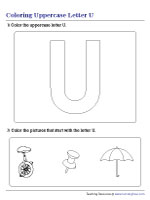 Falling back on the ease and elegance of curved lines is the secret to success for toddlers to trace the capital U flawlessly in this uppercase letter U worksheet.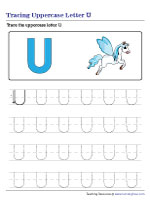 Watch kindergarten kids put a spell on their pencils, getting them to do their bidding, filling up the page with perfect renditions of the capital letter U.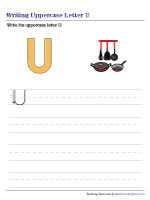 The coloring extravaganza continues unimpeded in this exercise, as pre-k and kindergarten kids splash around in their favorite hues, filling in the small u with shades of their choice.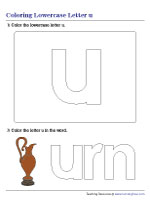 Dotted frames pave the way in this lowercase letter u worksheet that tasks young learners with tracing the small letter u.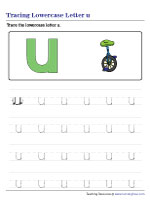 Young learners in pre-K will be ever grateful for all the tracing practice they had, for they are on their own now, printing the lowercase u repeatedly.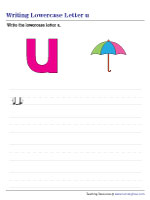 Letter U Words and Pictures Chart
This printable letter U chart is where the uppercase U and the lowercase u reside happily alongside a plethora of pictures of words beginning with the letter u.