Letter V Worksheets
Revamp alphabet practice with our free, printable letter V worksheets, replete with activities such as tracing, printing, coloring, and more. What makes this collection worthy of celebration is the fact that uppercase V is as much the star of the show as is lowercase v. A delectable mix of multicolored fun and repetitive learning, this set is certainly a must-have.
Our uppercase and lowercase letter v worksheets are ideal for pre-K and kindergarten kids.
CCSS: L.K.1.A
Be it a colored pencil or a crayon, your pre-k or kindergarten child's tool of choice makes no difference to the coloring excitement in this worksheet featuring the uppercase letter V.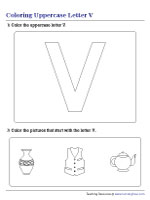 A bit of hand-holding is exactly what little ones require as they take their first step toward letter V mastery, and this uppercase V tracing worksheet offers just that.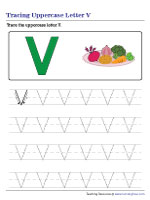 Kindergarten kids will hardly need any coddling as they tackle this worksheet, for they will fill up the lines with the capital letter V in the blink of an eye and with confidence.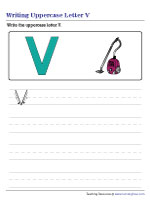 Coloring the small v is just part of the joy in this section of our letter v worksheets pdf, where children get to spread their wings of creativity far and wide.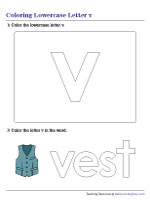 Watch dotted tracing frames appear in yet another cameo, this time helping kindergarten kids follow along as they meticulously make the shape of a small v.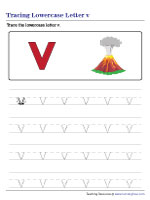 A sharp pencil and a dash of alphabet magic is all little ones require as they go about writing the lowercase v in our printablelowercase letter v worksheet.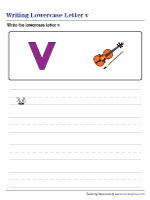 Letter V Words and Pictures Chart
This printable letter v chart, where words that begin with the letter V and the capital and small v sit side by side, is thoroughly deserving of a spot on your pre-k and kindergarten kid's study wall.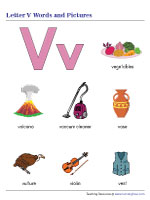 Uppercase V and Lowercase v Mixed Review
A little slice of each activity in this set is what kids get to feast on in this pdf uppercase and lowercase letter V worksheet that focuses on both avatars of the letter v.